Low vision – text to speech to the rescue. The combination of different technologies makes it so much easier today to help people that have vision challenges.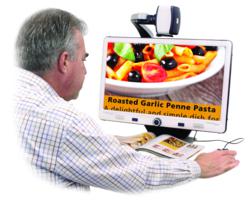 Enhanced Vision Launches "DaVinci HD/OCR"– a Feature-Rich High Definition Electronic Magnifier (CCTV) Featuring Text-to-Speech (OCR) and a 3-in-1 Camera
Huntington Beach, CA (PRWEB) May 09, 2012
Enhanced Vision, America's leading manufacturer of magnifying solutions for the visually impaired, launched a powerful new high definition desktop electronic magnifier and (OCR) reader today. DaVinci is a high performance desktop video magnifier (CCTV), featuring HD, text-to-speech (OCR) and a 3-in-1 camera for near, intermediate, and distance viewing. HD offers high definition color and contrast resulting in a beautiful, crystal clear picture and vibrant colors. DaVinci's text-to-speech feature can make reading enjoyable again and bring independence to the 15 Million+ Americans suffering from low vision conditions such as macular degeneration. With the push of a button, DaVinci will read any printed text aloud in a clear audible voice.
DaVinci HD/OCR Features:
Sony® HD camera
24" high resolution HD LCD for best image quality
Auto focus camera for self-viewing, reading or distance viewing (3-in-1 camera)
Text-to-Speech (OCR) – reads aloud with Nuance® software
Magnification up to 77x
Easy-to-use console with line markers
User-friendly menu
28 viewing modes to optimize contrast and brightness
Slide mechanism provides maximum flexibility for various camera arm positions
LCD screen easily pivots vertically
True mirror image in self-viewing mode
Memory setting for each camera position
Set up is easy, just plug in and begin
2 year warranty
Designed and Assembled in the USA
Currently, more than 15 million people in the United States are diagnosed with low vision conditions, such as Macular Degeneration which makes everyday activities like reading, writing, and working on hobbies a real challenge. And with America's aging population, this number is expected to double by 2020. Leading eye care specialists have discovered that video magnification is a solution for these individuals to regain and maintain their independence.
"We are excited to introduce DaVinci HD/OCR one of the finest and most affordable HD and text-to-speech CCTV's available today. Our text-to-speech (OCR) feature allows you to read longer without getting tired," said Marc Stenzel, Vice President of Sales at Enhanced Vision. "Easily read books and magazines, read and write letters, manage your financial records, view color photos, do crossword puzzles and even pursue a favorite hobby. And at a price that's hundreds of dollars less than competing products, it's the ideal solution at this challenging time."
For more information about Enhanced Vision and its products, please call
(888) 811-3161 or visit http://www.enhancedvision.com.
About Enhanced Vision-
Enhanced Vision is the leading developer of innovative products designed specifically for people who are legally blind and have macular degeneration and other low-vision conditions. The company offers the most comprehensive line of electronic magnifying solutions and has helped thousands of people regain their visual independence by providing the ability to read, write, watch TV, enjoy a play and live again. Headquartered in Huntington Beach, Calif., Enhanced Vision products are available in more than 70 countries worldwide.
More-latest speech technologies
Social share or comment – what do you think?